Glastonbury is buy far the biggest celebration of music of the year. Whether you dog the headliners or not, the multiple stages and acts that play over the weekend are world class talents and there is something for every taste. The festival itself withholds such a magic, enchanting each festival goer year after year to part with £200+ before a line-up is released. Yes, its always going to be THAT good, and they know it!
This year Worthy Farm had the sun beating down all weekend with a ferocity that suggests it is trying to overcompensate for all the preceding years of sodden misery.
The big news on Friday was the notion of Stormy headlining the Pyramid Stage. It is not only that he is the first black British male performer to appear in that slot, but he is an artist who has released only one album yet had been elevated to such status – up there with Jay-Z, Paul McCartney, U2 and the Rolling Stones. There is also a persistent rumour on the site suggests his show has cost more to stage than any other in the festival's history. However, within seconds of Stormzy's arrival, the sense of all the stops being pulled out is hard to miss. He might begin the set alone, with only his DJ, a Banksy-designed stab-proof vest with a Union Jack on it and an intense light show – complete with a ticker-tape flashing up the names of south London boroughs – for company, but it doesn't stay that way. There is a ballet interlude, designed to highlight the fact that BAME dancers now have shoes made in colours to match their skin tone. There is a vast gospel choir; there are dancers, complete with a small child busting moves; and there are kids on bikes popping wheelies around him as he performs Vossi Bop. Not for the first or last time over the weekend, there's an enthusiastic chant of "Fuck Boris".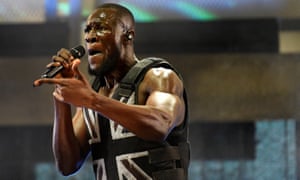 For all the eye-popping, larger-than-life visuals, there is something very human and moving at its centre. Stormy seems genuinely overwhelmed by the sheer size of the crowd he has drawn – he says it is "the greatest night of my life".
His performance seems not merely a personal triumph but a victory lap for British hip-hop. After decades as US rap's poor relation, here it is, topping the bill at the world's biggest music festival, and doing it in considerable style.
Saturday comes and brings along and where we should all be talking about Janet Jackson's legendary status and back catalogue, the attention is all on Lizzo.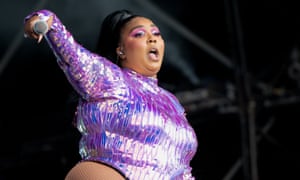 Lizzo informs the crowd that the last time she performed at Glastonbury, about 20 people turned up to see her. Today, she estimates the vast crowd before her to number "16 million thousand". Her rise from leftfield hip-hop cult figure to mainstream star has been accompanied by a lot of discussion about the serious issues her music raises: body positivity, self-love. You can understand why – you certainly don't want for motivational speeches between songs – but the earnest, eat-your-greens tone of the coverage obscures how much fun her music is. Her level of success comes down to tracks such as Juice being irresistible party music. Today, she chugs tequila from the bottle, plays the flute, twerks and leaves the stage to one of the most rapturous receptions of the weekend. INCREDIBLE!
Next up, our favourite (we're allowed ro say that right?!) Gallagher brother has his time to 'shiiiiiine'. The last time Liam Gallagher played Glastonbury, he was tentatively attempting to kickstart a post-Oasis career that had stalled with Beady Eye. It was anything but a foregone conclusion that it would work, but two years and a platinum-selling solo album later, he has clearly succeeded! People are clearly drawn to him because they know what they're going to get – his sound and approach remains defiantly unchanged, cleverly mixing his solo endeavours and dipping into tracks from Oasis's first two albums.
His finale of Champagne Supernova, dedicated to the late Keith Flint, is simultaneously euphoric and moving.
Saturday's Pyramid headliners are the Killers who, like Stormzy, who have also been met with criticism. Should they really be headlining our beloved Glasto..? Answer, YES! They worked that stage.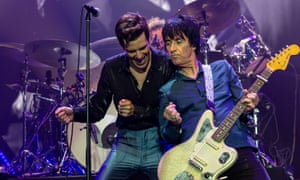 Indeed, if Flowers worked any harder to win over the crowd, he would have been down among them applying after-sun lotion and offering to pop to a stall to get Rizlas. Everything becomes an act of audience participation, up to and including counting in a song. He is overcome with emotion during a pause in Glamorous Indie Rock & Roll.
They have an impressive store of anthemic songs: Spaceman, Somebody Told Me, All These Things That I Have Done. The audience start singing along with the opening Jenny Was a Friend of Mine and forget to stop. By the time they bring out the Pet Shop Boys to perform Always on My Mind, and Johnny Marr to race through a version of the Smiths' This Charming Man, the deal is sealed. Their performance feels genuinely victorious.
Sunday afternoon on Glastonbury's two main stages skews distinctly towards pop. The traditional Sunday "legends" slot is occupied by Kylie Minogue, who made an emotional speech as she talks about having to pull out of the festival 14 years ago, after being diagnosed with breast cancer. The pop princess was an absolute dream and makes us think that she could have taken a headline slot herself! Nick Cave comes on stage for 'Where the Wild Roses Grow' and they slow-dance together as they sing. She performs 'Slow', Chris Martin appears once again to perform alongside herm reducing her most famous song, Can't Get You Out of My Head, to a slow-paced acoustic ballad. Kylie hits us with the Stock Aitken Waterman goods too – Shocked, Je Ne Sais Pas Pourquoi, I Should Be So Lucky!
Miley Cyrus, meanwhile, brings out her dad, Billy Ray, and Lil Nas X to perform Old Town Road, a highlight of a thrillingly chaotic set, at odds with Kylie's glittery polish. She crawls around the stage, underlines her Nashville roots by covering godmother Dolly Parton, admits she was scared to perform after seeing the Killers and plays a track sung by the character she played in a recent episode of Black Mirror: it gradually degenerates into a punishing industrial noise cover of Nine Inch Nails. On one level, her performance is all over the place, but that's its appeal – there is something really gripping about the randomness of her approach to being a pop star.
Meanwhile, over on the Other stage, the size of the crowd assembled to see Billie Eilish offers evidence of how her appeal has spread beyond her core audience of teenage girls and she is exceptionally good at what she does.
Sunday night Pyramid headliners ate The Cure. Their performance is the opposite of every other headline performance on the Pyramid stage this weekend. There's no special guests, minimal special effects and the first time they headlined Glastonbury was some years before a considerable portion of this year's attendees were born.
The band treat the Glasto crowd to a trip through the highlights of their back catalogue. It centres on their imperial phase, bookended by 1985's The Head on the Door and 1994's Wish, a period during which the Cure came within kissing distance of being the biggest band in the world, while somehow managing to retain a certain outsider status: Pictures of You, A Night Like This, Love Song, Never Enough, In Between Days.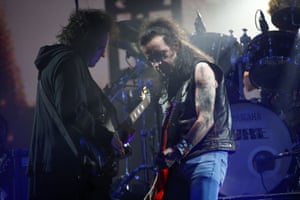 You get the sense that Robert Smith has quite a complex relationship with the most commercial end of his oeuvre – he exits the stage for two minutes "to get my pop head on" before it begins and explains that they're only doing it because it's Glastonbury – but there's something particularly joyous about hearing one pop smash after another: Friday I'm in Love following on the heels of Close to Me and The Caterpillar.
And something about the light tone of the material seems to infect Robert Smith himself as the man who launched a thousand teenage goth haircuts catches himself, explaining again that this isn't normally how the Cure perform. "I hope I don't regret doing this," he mutters, before the band launch into the concluding Boys Don't Cry.
Judging by the audience reaction, that doesn't seem likely. All hail The Cure.
What was your Glasto 2019 highlight?
Who do you predict to headline the next festival?
We'd like to hear in the comments below!